A couple of weddings.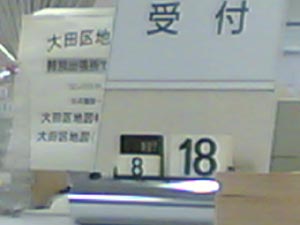 The first wedding took place on August 18th 2006 at the Ota-Ku ward office in Kugahara, Tokyo, right next to Tomoko's parents' house. It was a very low-key affair.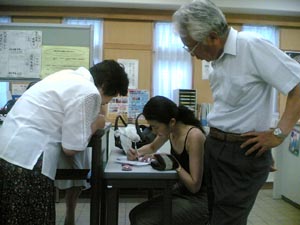 A form (in the important brown color) was filled out, Tomoko put her personal seal under it, and Bertel signed his first contract that was all in Japanese. And the couple was pronounced tsuma and otto, wife and husband.
Successfully married, the two took off for Europe, and had a little honeymoon in Germany, France and Italy.
The second wedding was the antithesis of the first. It was elaborately planned and tightly scripted by an ever-growing cast of wedding specialists, ranging from the all-important wedding-planner to a pair of background music engineers.
For two months, Tomoko and her parents were totally engrossed in the preparations..
The theme of the wedding was "East meets West," with Western dress for the first part, and traditional Japanese dress for the second part of the wedding.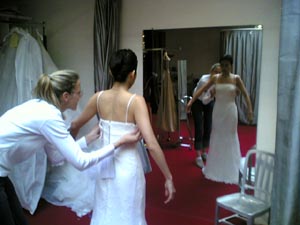 Tomoko's Western wedding gown, made by British Designer Justin Alexander, was brought to Duesseldorf and fitted by experts at Honeymoon, Duesseldorf's leading bridal store.
The traditional kimonos for Tomoko and Bertel were by Takashimaya, Tokyo.
The rings were designed by Tomoko and made by Ishino Hana, in Harajyuku, Tokyo.
The actual wedding took place on October 21st 2006 at the Imperial Hotel, Tokyo. This legendary Tokyo landmark has welcomed royalty, heads of state, celebrities and young couples for over 115 years.
50 guests from Japan, the US, and Germany attended the chapel service and wedding reception that followed.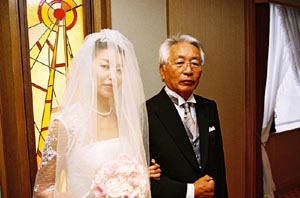 Tomoko's father Yoshito Miki-San, led his daughter down the aisle.
The wedding reception, was a meeting of the clans.

Tomoko's mother's side was represented by the the Suzukis, who made the long trip down from the North of Japan. And of course there were the Mikis, a family with more than 500 years of tradition in Kugahara.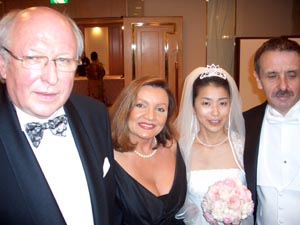 Bertel's clan was represented by his friends and relations from the US and Germany.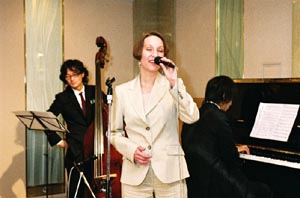 As a special treat, Bertel's niece Annette Neuffer, a noted Jazz singer from Munich, Germany, joined ranks with Yusuke Hirado's band Quasimode and entertained the guests. Yusuke is a long time friend of Tomoko's.