Flash! Kaede Getting Hitched!
As predicted below, Kaede (below, right, and further below, right again) last of the available Charlie's Angels, has been snapped up by a very wise and discerning man. The happy couple married in San Francisco. Sorry, boys, all Charlie's Angels are spoken for. Too late!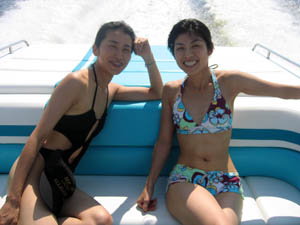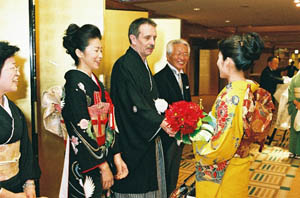 Tomoko and Bertel are back from their second honeymoon, which took them to San Diego, Florida, and New York City.

In San Diego, they attended the wedding of Arisa & Michael. Arisa, Kaede and Tomoko were known as "Charlie's Angels." With Arisa and Tomoko successfully hitched, Kaede remains the only Angel available. With Kaede's beautiful looks, that situation will not last long.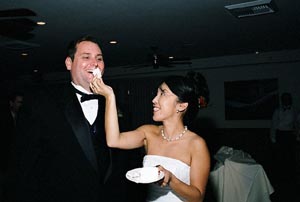 In Destin, Florida, the couple attended the World Championships of the Offshoresuperseries .
Next to the quest for Tomoko, boat racing is Bertel's great passion. With Bertel distracted by Tomoko, his boat Typhoon finished 5th in the world ranking. Better luck next year!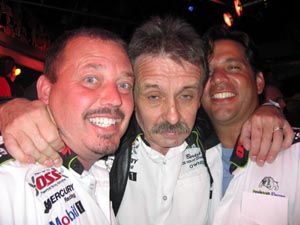 Welcome! Yokoso!
On February 16, 2005, in a romantic coffee-shop at Narita Airport, Bertel asked Tomoko to marry him. Tomoko said: "Yes." Tomoko asked Bertel. Bertel said:: "Yes, I will."
And so, a year later, on October 21, 2006, in a beautiful ceremony at the Imperial Hotel in Tokyo, Tomoko and Bertel Schmitt said "hai, chikai masu" (yes, I will) to each other. They promised to love, respect, console, watakushi wa kenkouna tokimo, forever.
About 50 guests, friends and family, from close by and far away attended the wedding. This website is a memento for all of them. (In the name of historic authenticity, it has been preserved in its 2006 Frontpage technology.)
And it is a virtual wedding for all those who tried, but could not make the long trip around the globe.