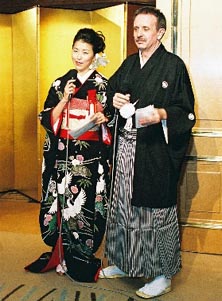 A Whirlwind Marriage.
Bertel, on one of his first trips to China, was scheduled to change planes in Osaka. A typhoon changed plans. Instead of Osaka, it was Tokyo. Bertel staid overnight at the Park Hyatt, the hotel where they just had shot "Lost in Translation."
And there Bertel met Tomoko, Tomoko met Bertel. They fell in love. Didn't want to realize it first, too far apart in many ways than one. But there was a magnetic force, it repelled and attracted at the same time. Bertel never ever flew through Osaka again. They met, they traveled. Despite being worlds apart in language, heritage, and culture, Tomoko and Bertel had many things in common. Both worked in the advertising and design business. Both love beauty and elegance. Both love the sea. Distances, times apart could not break their relationship, they just made it stronger.
Two years after they had met, on August 18th 2006, Tomoko and Bertel performed a low key civil wedding at the ward office right next to Tomoko's parents' house. On October 21st 2006 followed the formal wedding at the Imperial Hotel in Tokyo.